Serving the restaurant & hospitality industries since 1973, Mivila Foods has the knowledge and experience required to successfully provide your establishment with all the tools you need to succeed. We understand the challenges and obstacles this industry presents, and we are here to ensure that you will not only overcome but also surpass the competition.

With the strategic placement of our two locations, we are able to quickly and efficiently service all of our customers. In Paterson, NJ, we are equipped with an 80,000 sq. ft. building; in Calverton, NY, we work out of a 320,000 sq. ft. building. As a broadline foodservice distributor, Mivila Foods services the entire restaurant & hospitality industry. Our customer base includes: restaurants, banquet facilities, diners, pizzerias, delis, bakeries, cafes, country clubs, bars, hotels, inns, B & B's, healthcare & nursing homes, schools, correctional facilities, hospitals, and non-profit organizations. We also service other wholesalers and re-distributors, through a specific pricing program that we can offer.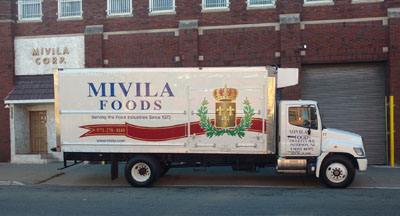 Mivila Foods offers a full line of products, including: dry, refrigerated, frozen, ethnic & specialty, IBP fresh choice meats & poultry, fresh-frozen seafood, fresh produce, dairy, paper, plastic, foil, flatware, tableware, glassware, cleaning supplies, bar supplies & mixes, baking supplies, dietetic, kitchen equipment. We stock Kosher & OU certified products, in addition to No-Trans Fat products. If you have any questions with reference to new, existing, or specialty items, do not hesitate to contact us. We welcome the opportunity to locate any product you or your chef may require.

The Mivila Sales Department handles all requests and inquiries with the personal attention that Mivila has guaranteed its customers since 1973. We have an excellent understanding of who our customer is and what the expectations are when calling Mivila Foods. Each of our Sales Professionals has expertise in various sectors of the industry.

Our Purchasing Department also plays a vital role in ensuring that Mivila's customers receive the most competitive prices. All of our purchasers have their own legacy of buying experience, which enables them to select the highest quality of products at the lowest prices in the market. Plus, Mivila's Marketing Department keeps our customers up-to-date with product promotions, culinary tips & recipes, rebate-coupons, weekly & monthly flyers, food shows, and more. With services like these from the team at Mivila Foods, your bottom line will surely improve!

From hassle-free order placement, to timely delivery, we ensure that your order is properly executed every step of the way. You are encouraged to call our company representatives with any questions you may have. We look forward to providing your establishment with the quality products, worry-free service, and competitive pricing that can make your experience with Mivila Foods much more pleasurable!
MIVILA Foods is a member of UniPro Foodservice, Inc®, the larget foodservice distribution cooperative in the United States, with over $60 billion in buying power which directly benefits you. This assures you the optimum variety of product, at competitive prices. The UniPro organization is the nation's #1 Foodservice distribution network for the industry's leading national brands. This superior buying leverage is passed on to you - we buy better, so you buy better. It is also reflected in the high standards of quality in every case purchased. UniPro is typically the largest or second largest customer to the industry purchases worldwide from more than 700 manufacturers. This gives you the greatest variety and ensures we cover all your menu needs, with quick access to quality foodservice products.
We are committed to your success!